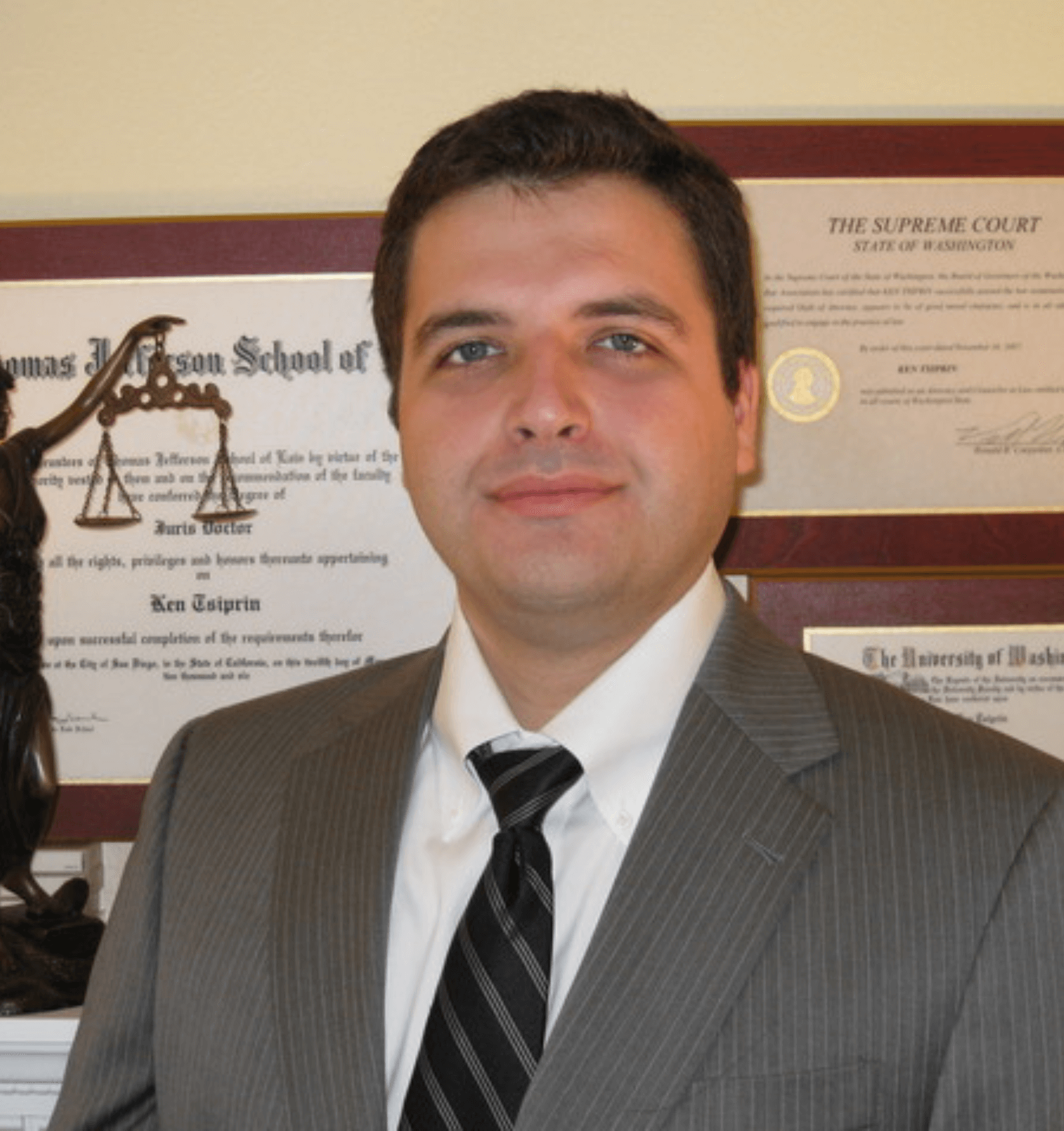 Learn About Our Top Award Winning Attorney Ken Tsiprin
Widely respected in his field, Ken Tsiprin has 12 years of experience. He has successfully defended thousands of different legal accusations and continues to seek new challenges and experience. Prior to founding his law firm, he took part in representing Microsoft, Delta Airlines, and T-Mobile and working as an experienced attorney at K&L Gates LLP. Ken believes that a contributing factor to his success as a traffic and criminal defense lawyer comes from creating a connection with his clients and constructing a complete understanding of every case.
Ken has a fantastic reputation in the legal community. This is because he is highly competent and is a tireless advocate for his clients. His clients receive top-notch representation and I have heard nothing but good feedback about Ken. I have no hesitation whatsoever in recommending Ken, especially in the areas of bankruptcy, personal injury, and real property law.

- Yevgeny Berner
Ken Tsiprin is a graduate of the University of Washington with a B.A. in Economics, and the Thomas Jefferson School of Law, earning a Juris Doctorate. He is a member of The Washington State Bar Association (WSBA), United States District Court- Western Division, ARAG Group, Legal Club of America (LCOA), Legal Access Management Group, Legal Resources, MetLife Legal Plan, LegalEase, and U. S. Legal Services. Ken can also speak 4 different languages. He is fluent in Russian, Ukrainian, Spanish, and English.
I know him to be conscientious, client-friendly, and able to meet all deadlines. He communicates to clients in 'plain English' -- not legalese. He's also fluent in Russian! I've referred a number of clients and acquaintances to him for his expertise in traffic matters and bankruptcy. I feel comfortable that he will do a good job for them. He's an asset to our community.

- Kathryn Fields
Ken Tsiprin recognizes the importance of understanding the needs of his clients and how the attorney-client relationship is built on integrity. Free consultations and an inexpensive flat fee for every civil traffic case are necessary no matter how many attorney appearances. His time is his client's time.
I endorse Ken's work. He is a very perceptive attorney, zealous in representation of his clients, highly ethical, and professional.

- Ioulia Roussinova
Ken Tsiprin will get you a great outcome on your Speeding tickets, Red light tickets, all traffic tickets, DUI/DWI, Reckless Driving, Reckless Endangerment, Negligent Driving. He knows it all. Ken travels statewide defending all traffic tickets and criminal driving offenses and has a very high success rate of keeping his client's records clean. If you received a criminal driving offense or a traffic ticket, you need a lawyer like Ken Tsiprin to represent you.
If you have any questions or need help with your Traffic Ticket, DUI, DWI, Criminal Case, Auto Accident or any other related questions, just give us a call at 425-278-9922 or email us at ken@myticketdismissed.com.
Share with Friends