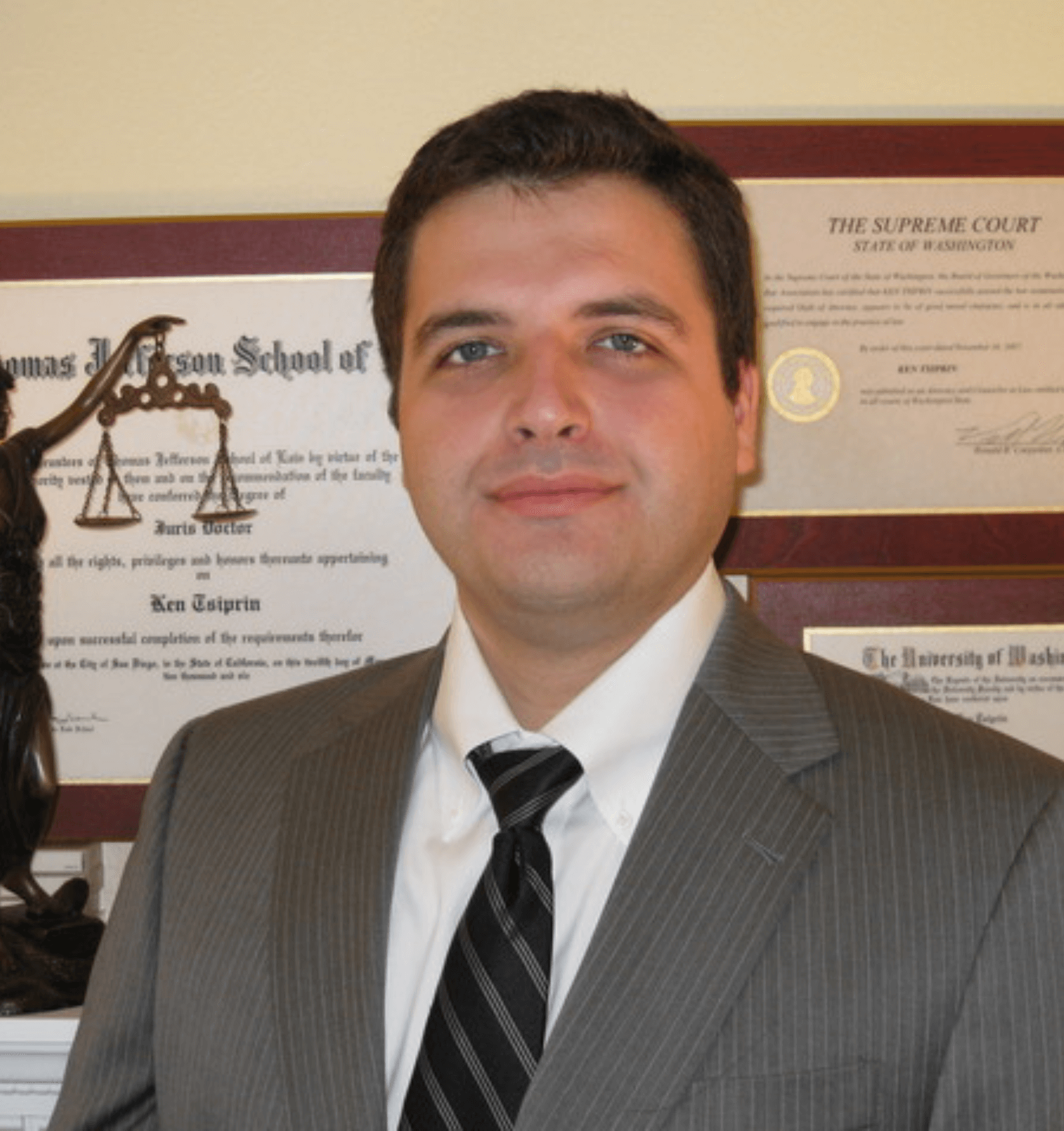 Ken Tsiprin - Traffic, DUI, Personal Injury Attorney
Nobody likes to get involved with the law. And it's even more concerning when we get into trouble with the police on the road to the supermarket or to work. Are they there to interrogate your vehicular compliance, give you a speeding ticket, or arrest you for driving under the influence? In any case, our top attorney, Ken Tsiprin, could be an advocate for you in court when you are charged with a traffic violation.
Almost in every single case, you have the right to an attorney and should demand to talk to one immediately. Ken can help you avoid taking the wrong steps when dealing with the police that can spell disaster for your finances in the future. A well-versed legal professional like Ken could be there to represent you and advise you every step of the way to ensure your rights are protected.
If you've ever been a part of a traffic accident or have received a ticket, perhaps getting a traffic lawyer isn't the first thing on your mind. There are, however, some cases when the incident is not as simple to solve, and may result in criminal charges or higher penalties. When it comes down to this, you will be glad that you have an experienced attorney by your side.
Why Do I Need a Traffic Lawyer?
Traffic laws in Washington are becoming more and more complex. The regular drivers may have difficulties in figuring out these rules when legal issues happen. The penalties for traffic offences can include hefty fines, the municipal court suspending your driver's license, and even imprisonment in serious cases such as dangerous driving, aggravated reckless driving, and failing to stop.
Our attorneys at MyTicketDismissed won't let that happen to you. We are here to act on your behalf by giving you professional advice and showing up in court to defend against your charges. We negotiate with the judges and prosecutors for a better settlement for your case and plea for a dismissal.
We understand that you are potentially facing one of the most difficult times in your life—we want you to feel confident in your choice of attorney, and we want you to be properly informed about your charges, your options, and the potential penalties. We understand that we can provide you with immense peace of mind and stress relief if one of our dedicated attorneys can represent you in your defense. As a result, we will always do our best to make sure that your legal rights are preserved. We are able to request for a reduction or dismissal of a charge to lift a huge weight off your chest.

These are the possible reasons for hiring a traffic lawyer:
1. You Don't Know the Law
Not everyone is an expert at the law. Nobody is ever prepared by memorizing a bunch of legal terms just for that one time they get pulled over for violating traffic rules. When that happens, it may be too late for you to familiarize yourself with the laws and consequences of the charges.
It's simpler to look for a traffic attorney for help. Our attorneys at MyTicketDismissed are professionals and have spent a lot of time rubbing their elbows against the latest laws. We are confident that all your questions and concerns can be answered if you contact us. If you are unsure of how to proceed after having violated a law, we can also provide you with FREE advice.
2. A Serious Accident Occurred
Sure, you may not always need a lawyer when dealing with traffic tickets, but what if you're a part of a traffic accident case that resulted in severe injuries?
In times like that, you will have to go to court no matter what and set up a defense. And that's when you need a traffic lawyer. We can help you get a good grip of your case by gathering all the necessary evidence and details to bolster your arguments. If you are the person that is suffering from injuries, you can employ our lawyers to make sure you get the compensation you deserve.
When it comes to more serious car accident cases, you are more likely to succeed in defending yourself if you have help from a seasoned lawyer. You won't be able to gather the necessary video footage or examine the right police officers with as much authority and knowledge as a lawyer, which will impact the quality of your case.
3. You Want to Contest a Ticket
Maybe it's your first penalty, or maybe you don't believe that you deserved a ticket at all. Whatever the reason is, fighting a ticket is a lot easier with our traffic attorneys on your side. We know the rules inside-out and we know of preceding cases that can back up your position.
Fines are considered quite expensive and are an unnecessary expense, so if you want to prevent having to pay one at all, your chances are a lot better when you hire our attorneys.
MyTicketDismissed - We Will Help You with Your Traffic Case
As a traffic law firm, we focus exclusively on matters of traffic. By focusing on traffic matters only, our firm offers a unique representation experience. We have in-depth understanding of the courtroom politics in the Western Washington area and beyond. With offices in Western Washington cities, we represent clients in Seattle, Tacoma, Bellevue, Bellingham, Kirkland, Federal Way, Renton, Lakewood, Redmond, and Everett.
MyTicketDismissed criminal defense lawyers can help you to decide how to respond to charges and can either help to negotiate a plea deal or fight to avoid conviction. Sometimes, we can actually help you get your charges dropped or win you a not-guilty verdict. What is our secret here? Well, we can dig further than you can do by yourself, because, with our experience, we can spot discrepancy and flaws in the prosecution. Afterward, we bolster your case by introducing doubts or raising affirmative defenses.
Because our attorneys have a great deal of experience practicing law in the local court system, they understand what it takes to mount a successful criminal defense in Western Washington. By calling our firm and explaining the charges filed against you, we will be able to determine how our lawyers may be able to make a difference in your legal case.
1. Traffic Tickets:
A traffic ticket is one of the most common traffic violations we face. From time to time, one gets slapped onto our windshield. Some tickets are minor and have little impact on our lives. Other tickets, however, can make you pull your hair about the long-term consequences they can have on your driving records and your insurance premium. For some tickets, you will need an attorney to help protect your record from suspension.
At MyTicketDismissed, it is our pride and commitment to be thorough with legal consultation when you call us or come to our office. We understand that you don't need an attorney for every single ticket, but we hope to inform you of how to protect your driving record. We are committed to honesty and integrity in our assessment of whether an attorney is necessary and be transparent about what our firm can offer you so you can feel confident that you have made the right choice.
With our years of experience and daily dealings with traffic tickets, we can guarantee that we can show you the best approach to fight your traffic ticket.
2. Auto Accidents:
Accidents happen no matter how careful we are. Having said that, what you do after an accident can determine your financial well-being and driving privileges. An accident citation, like other traffic tickets, can be minor or serious. When you are involved in serious damage, injuries, or other incidents that impact your insurance, it is important to know how to protect yourself from costly lawsuits and license suspensions. Those stains on your driving records that may result in future trouble for you in the future.
Our team at MyTicketDismissed commonly represents clients in accident cases and we are well versed in how to prevent accident tickets from creating civil liability for future litigation.
3. DUI Cases:
Driving under the influence of drugs or alcohol (DUI) is a serious charge in Washington. You may face some insanely harsh penalties if you are convicted for DUI. Your license may get suspended, and you may have to face jail time for repeat offenses. However, our top lawyer, Ken Tsiprin, at MyTicketDismissed is an exceptional criminal defense lawyer with local knowledge. He understands how to dispute unreliable breath tests and other blood alcohol content (BAC) tests, as well as how to determine when a DUI stop was carried out without cause. This sort of knowledge, plus the ability to execute such defense strategies effectively, is what makes Ken stand out from the rest in the legal community in Western Washington.
An arrest for DUI does not always mean conviction, even if blood alcohol tests or drug tests allegedly show narcotics or a BAC above the limit. There are things our lawyers can do for you to help your case, such as introducing reasonable doubt about the evidence a prosecutor presents. Our tenacious and hardworking attorneys at MyTicketDismissed could help you with a stellar criminal defense case. We know how to settle for the best outcome with the court and can make arguments on your behalf to a jury.
Ken Tsiprin - Our Main Lawyer, and Our Choice for You
Widely respected in his field, Ken Tsiprin has 12 years of experience. He has successfully defended thousands of different legal accusations and continues to seek new challenges and experience. Prior to founding his law firm, he took part in representing Microsoft, Delta Airlines, and T-Mobile and working as an experienced attorney at K&L Gates LLP. Ken believes that a contributing factor to his success as a traffic and criminal defense lawyer comes from creating a connection with his clients and constructing a complete understanding of every case.
Ken has a fantastic reputation in the legal community. This is because he is highly competent and is a tireless advocate for his clients. His clients receive top-notch representation and I have heard nothing but good feedback about Ken. I have no hesitation whatsoever in recommending Ken, especially in the areas of bankruptcy, personal injury, and real property law.

- Yevgeny Berner
Ken Tsiprin is a graduate of the University of Washington with a B.A. in Economics, and the Thomas Jefferson School of Law, earning a Juris Doctorate. He is a member of The Washington State Bar Association (WSBA), United States District Court- Western Division, ARAG Group, Legal Club of America (LCOA), Legal Access Management Group, Legal Resources, MetLife Legal Plan, LegalEase, and U. S. Legal Services. Ken can also speak 4 different languages. He is fluent in Russian, Ukrainian, Spanish, and English.
I endorse Ken's work. He is a very perceptive attorney, zealous in representation of his clients, highly ethical, and professional.

- Ioulia Roussinova
Ken Tsiprin recognizes the importance of understanding the needs of his clients and how the attorney-client relationship is built on integrity. Free consultations and an inexpensive flat fee for every civil traffic case are necessary no matter how many attorney appearances. His time is his client's time. He is a very perceptive attorney whose work is well-endorsed by clients and colleagues a like. His zealous pursuit in representation of his clients is highly ethical and professional.
I know him to be conscientious, client-friendly, and able to meet all deadlines. He communicates to clients in 'plain English' -- not legalese. He's also fluent in Russian! I've referred a number of clients and acquaintances to him for his expertise in traffic matters and bankruptcy. I feel comfortable that he will do a good job for them. He's an asset to our community.

- Kathryn Fields
Ken Tsiprin will get you a great outcome on your Speeding tickets, red light tickets, all traffic tickets, DUI/DWI, Reckless Driving, Reckless Endangerment, Negligent Driving. He knows it all. Ken travels statewide defending all traffic tickets and criminal driving offenses and has a very high success rate of keeping his client's records clean. If you received a criminal driving offense or a traffic ticket, you need a lawyer like Ken Tsiprin to represent you.
If you have any questions or need help with your Traffic Ticket, DUI, DWI, Criminal Case, Auto Accident or any other related questions, just give us a call at 425-278-9922 or email us at ken@myticketdismissed.com.
Share with Friends